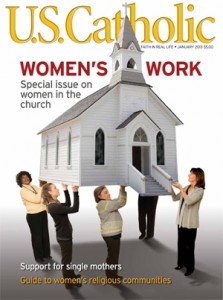 For years, I've been writing for the annual women's issue of U.S. Catholic. This time I wrote about single mothers and how the church could better help them. I met some amazing women writing this piece–and got to reconnect with an old friend!
For Rosa Manriquez, it was the Catholic school's father-daughter dance.

For Wendy Diez, it was the e-mail from the preschool teacher addressed to "Mr. and Mrs. Diez."

For Jeannie French, it was schools not offering babysitting on parent-teacher night. And Catholic singles groups filled with men who had no interest in dating a woman with children. And being assigned to sleep in guest room bunk beds with her son when visiting friends or family.

Small slights, perhaps, but ones that reminded these Catholic single moms that they are not the norm. The default expectation in our culture—and our church—is that families have mothers and fathers. While many Catholics have questioned that limited definition of "family" for years, single mothers struggle not only with feeling left out but also with all the practical and financial challenges of raising kids without a partner. As French points out, "Who drives my babysitter home at the end of the night?"

Yet single-parent families are hardly a rarity. About a quarter of all American children live in single-parent households, the vast majority of which (85 percent) are headed by women, according to U.S. Census data. Various surveys show that of all children born today, as many as 41 percent are born to unmarried women, although some of those women may be living with the baby's father. This compares with 20 percent of births to unmarried women in 1990.

Each of these approximately 10  million single moms in America has a different story, especially since not all women come to single parenting the same way. Though the "single mother by choice" contingent has gained visibility, most young girls don't dream of becoming single moms. About half of single mothers are divorced or separated, a third have never been married, and a smaller percentage are widowed.

What they have in common are the joys of parenting coupled with the challenges of doing it alone. While Catholic single moms may have the added guilt from their church's emphasis on the "traditional" nuclear family (and some may face even more serious consequences—see sidebar), they often experience the added benefit of a caring community and a spirituality that carries them through tough times.
Read the rest of the story in U.S. Catholic here.